Mel Whitten, KØPFX
St Louis County, Missouri - EM48sr
mel-at-melwhitten-dot-com
13 Jan 2018
If interested in speaking at Dayton Hamvention in the "Digital Modes Now and in the Future," forum, please contact me ASAP!
I'll be at the Orlando Hamcation this coming February! Hope to see you there!
NEW -Thanks to Brad, KB9BPF on 09Dec17 I received a very clean Kenwood TK-481 handie and a 15 watt ouputTK-981 for the 33cm/900MHz band. I look forward to working the K9HAM Repeater on 927.0125! What great sounding "Kenwood" audio!
Where KØPFX may be found on the air: Daytime 14.236 Digital Voice Evenings CW mostly in the extra class sub-band. Also, active on 6m thru 3 cm SSB, FM, Packet and ATV. APRS/FM using a Kenwood D-710. My APRS SSID is KØPFX-9. In the shack, I monitor 146.520,147.600, 147.015 D-Star. Using the ICOM 2820 and ID-1. For D-Star look for me on 147.015 and 1285MHz using the Missouri Digital Group D-Star System. Weather conditions (KØPFX-8) near my QTH via an Open Tracker+ and Peet Bros Weather Station with a Kenwood TM-271 may be found here. Packet Radio is monitored with a PBBS on 145.01/50.78 (1200 baud) and 446.075/441.050/430.55 (9600 baud). KØPFX-1 (STL) node near my QTH is active on 4 frequencies using the Gracilis Packet Ten Switch for networking.
Modes:
Digital ATV - Currently, high def Digital TV pictures (and audio) using Digital Video Broadcasting (DVB-T) in my local area. This is being accomplished using small USB dongles (UT-100B) that may be found here (and sold on eBay). Others hams in the UK, France, Germany, Ohio and California are using these with Class A amplifiers for distant contacts equivalent (and sometimes better range) than analog ATV. To get started, all it takes is one of these dongles, an amplifier and a 70cm yagi antenna. Software is free with the dongle. A small 10W Class A amp from OE7DBH works well for all HiDes TXs. A search on Google will provide additional links to amateur activity on DVB-T. I recommend Herve Benoit's book "digital television" 3rd edition (Focal Press) which "describes and explains" all a ham should need-to-know to become successful in this relatively new mode for amateur radio. This mode is fun and with a lot of possibilities now that it is all digital. Small "stand-alone" Transmitters and Receivers (no PC connection required) plus HD cameras with built-in DVB-T transmitters are also available. If you live in the metro St Louis area and interested in digital ATV, please contact me and I'll be happy to help you get started.
Digital Television Repeater - An in-band 70cm repeater is now completed for DVB-T using a HIDes transmitter HV-100EH and HV-110 Receiver with a OE7DBH Class A amplifier and N0YE's Inter-digital BP filters. A four port user controlled HDMI switch selects the Receiver, an enhanced Media Player, Unbuntu OS PC (not shown), or HD tower Camera. HIDes's Web Remote Management and IP streaming is currently being tested. Here it is installed at the repeater site/QTH of WDØFCH serving the metro St Louis area.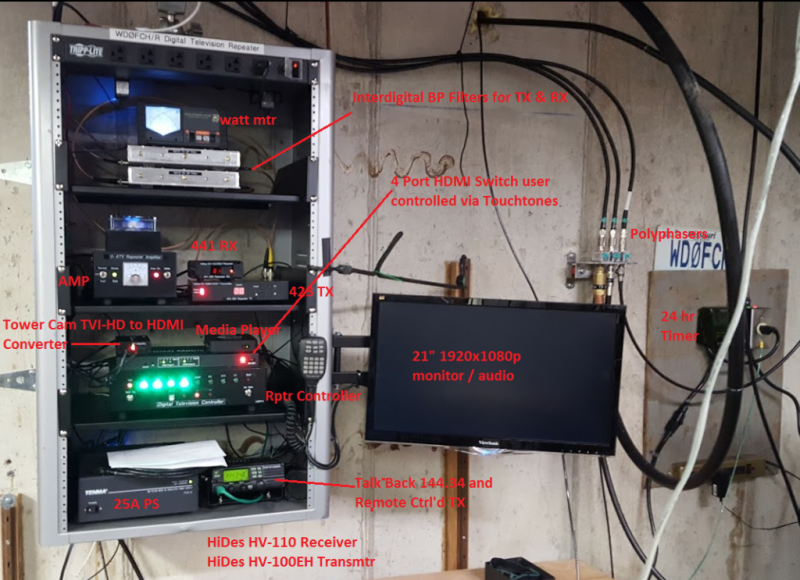 DVB-T System "on-the-air!" The "DVB-T 10w" has been completed and tested. In comparing performance, a P2 to P3 analog signal from my station (running 80w) to N0GL was equivalent to an error-free digital signal at 10watts while requiring only one third (2MHz) the BW of the analog NTSC signal! The 16mile path was not LOS and obstructed by thick foliage and a hill between us. I have also added a stand-alone DVB-T receiver from HiDes in Taiwan (HV-110) that connects to a flat screen's HDMI input. A picture of DVB-T station using HiDes components may be seen here. I am in the process of writing an article describing how to operate and build your own DVB-T 10w with plans to publish by the end of this year. The front panel and inside view of S/N 02 may be seen here and here.
A second DVB-T 10w digital ATV transceiver is on-the-air with an option for up to 3 external DVB-T transmitter inputs. I am using a Transco 4PST switch for the HiDes Camera/TX modulators, the new HV-310E stand-alone-DVB-T transmitter and the UT-100B internal tx/rx to connect with the 10w Class A internal amplifier. A complete documentation package has been completed and I am slowly preparing an article on its construction and operation.
Work has completed on a smaller and simpler HiDes DVB-T interface for W0NZG. Some pictures may be seen here, here and here.
More DVB-T interfaces: Construction has been completed on four "simple" DVB-T interfaces for the HiDes transmitters/receivers. The interface includes high isolation antenna switching and a 10w Class A amplifier. A complete documentation package was prepared including many photos of the assembly making an easy way to get started in Digital ATV. Once completed, just connect two coaxes for the TX and RX (this may be the UT-100B or any of the stand-alone TX/RXs from Hi Des) and a DC power supply. For the UT-100B USB dongle, run one of the free software programs for TX and RX from HiDes. Your set to go digital ATV!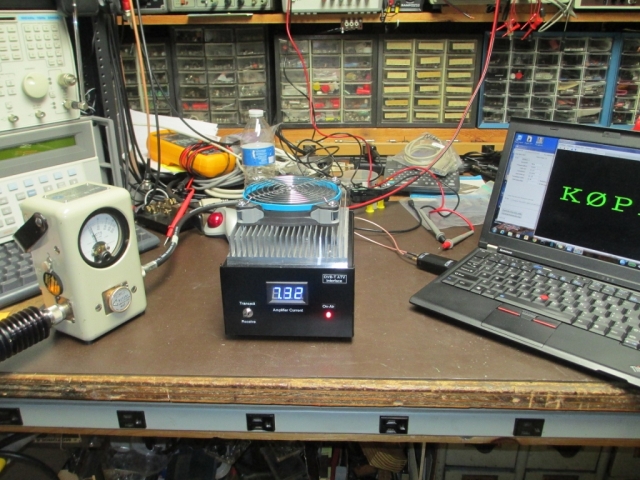 On the bench...Running 10watts Bird 43 Class A on 70cm, 4Mhz BW COFDM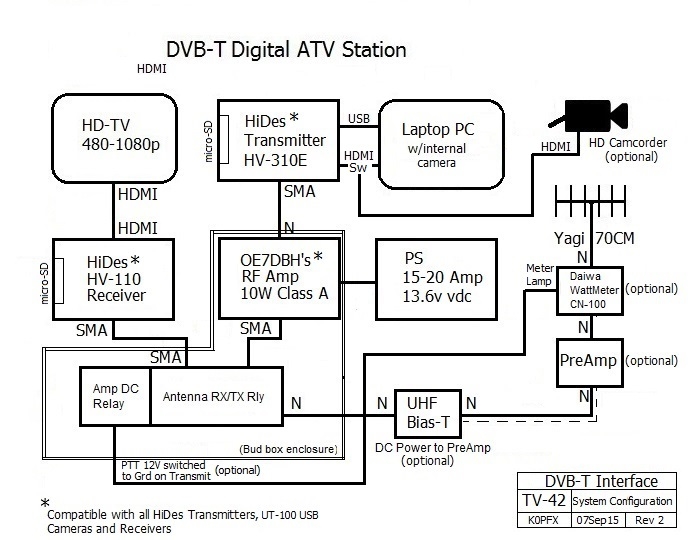 Lot of options with HDMI I/O...choose HDMI switch with extra ports!
HamRadioNow has released Episode 169 on my DVB-T Amateur Digital Television presentation given at the ARRL/TAPR Digital Communications Conference (DCC) this past September. The 52min presentation may be found here.
FreeDV Digital Voice: A replacement for FDMDV was released in beta on December 7, 2012 and has enjoyed wide acceptance from both old and new users of this technology. FreeDV with its new open source coder/decoder (CODEC2) provides good voice quality at a very low bit rate in one half the frequency spectrum of conventional SSB. Written and video documentation is available to help the new user quickly get on the air. The program may be downloaded at FreeDV.org Windows, Apple and Linux distributions are available.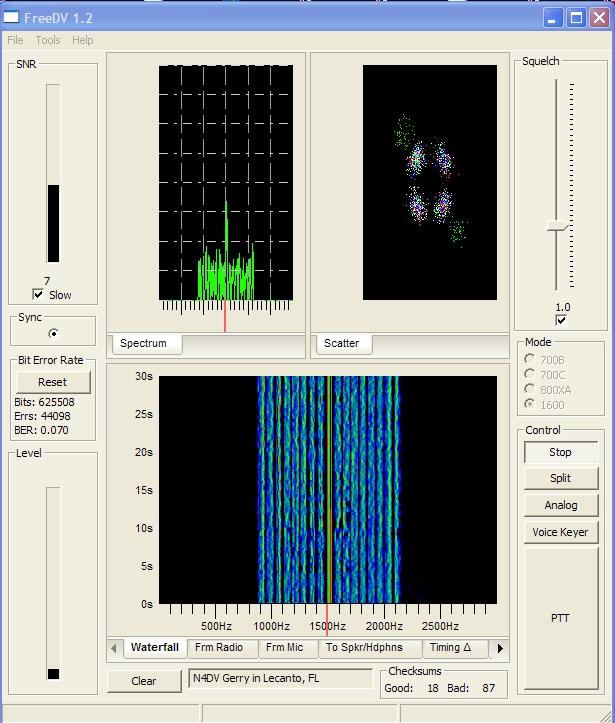 Latest version 1.2 with new modes - down load at freedv.org
Quick Start Guide v 1.10 (QSG) was released on October 18, 2015 Grab it at here.
Interview with George Thomas, W5LDX of Amateur Logic (Episode 60) may be found here
Interview with Dale Puckett, K0HYD of Ham Nation will be aired on TWIT.TV may be found here.
Visit HamRadioNow for Episode 47, 81 & 92 on FreeDV and CODEC2 -
See the new 2014 ARRL Handbook Digital Modes Chapter 16 and look for FreeDV + DVD startup tips
See West Mountain's Summer '14 Newsletter "The Beacon" here for an article on:
"Setting up FreeDV HF Digital Voice with the RIGBlaster Advantage"
FreeDV QSO Finder: Look for current activity using K7VE's "FreeDV QSO Finder" here. Current stations on the air, frequencies in use and a chat line are available. First look for activity on 14.236USB. Several stations monitoring this one daily. Join Goggle group's "digitalvoice" for info on CODEC2, FreeDV and development work VHF/UHF DV as well.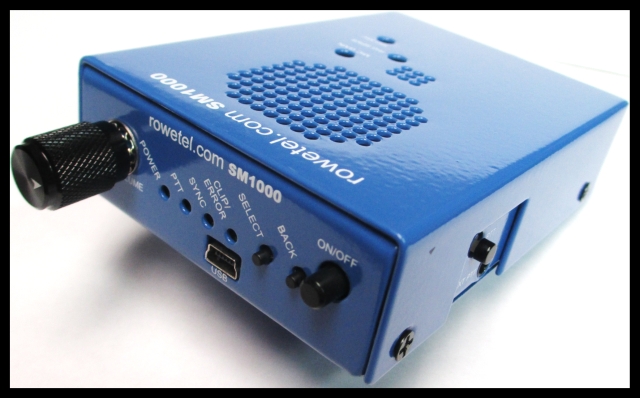 FreeDV SM1000 Hardware: No PC required. Just plug into the microphone of your SSB radio and the squeeze the PTT for instant digital voice. Available now. For more information, see David Rowe, VK5DGR's blog here.
CW: Interested in QRQ (high speed) CW on the air or over the internet? Check out AA0HW's "QRQcw" site...go here. Take a look at Chuck's video on setting up the software program called "rufzWORDS" (3000 Most Commonly Used Words in the United States) to help increase your speed and accuracy of copying common words. I am a member of the First Class Operators Club, FOC #1916 and CWops, #271. I have been a long time member of the CFO, #023 and enjoy QRQ rag chew QSOs using my N0SA paddles and various keyboards. My dad (W4BI - SK) was a WW2 Intercept Operator, Instructor and Member of the On-the-Roof-Gang (OTRG) Class of 1935. QRQ CW has always been big part of my ham operations.
CWops Club! - I'm a Member (#271) Lots of fun, activity and informative monthly newsletter. Want to learn CW or improve your efficiency? Checkout the them out at the web site here.
HF Packet Radio - SCS (Special Communications Systems) has introduced a Packet Radio modem called the SCS Tracker / DSP TNC which works well in its 200/600 baud "HF Robust-Packet" mode. I have been using mine now for over 3 years with the Flex 5000A. A very small enclosure makes it ideal for mobile or portable operations as a "Tracker" also. Take a look at it here. Available in US from the hams at Farallon Electronics in California. Go to Robust-Packet.net for interesting tracking activities on land and sea.
Wow! Yet-another SCS DSP Packet Radio modem has been released by SCS. It has new "stylish" enclosure, connectors for GPS input and power plus new v1.4 firmware. Robust HF Packet Radio plus HF APRS tracking world wide. Take a look at it here.
VHF Packet Radio - K0PFX runs a BPQ32 node (K0PFX-4 BDGN), BBS (STLBBS) WinLink RMS (STLRMS) on 145.01 (1200) and 441.050 (9600). Packet Radio at K0PFX is also available on 50.68 (1200/9600), 144.390 (APRS/Weather), 430.550 (9600), 446.075 (9600), 1250.55 (1200). TNCs are all Kantronics 9612/9612+ and PacCom Spirit-2. BDGN node is linked to STL-1 (K0PFX-1) and the internet for forwarding.
PACTOR-4 SCS (Special Communications Systems) also has a relatively new Pactor modem model DR-7800 or "P4 Dragon" which I have had in use now for several years. It is a "fast" HF modem with a maximum throughput of 5512bps (without compression). Up to 3x faster than PACTOR-3 and requires 2.4khz BW and faster symbol rate. It works quite well on P-3 with RMS Express (Winlink) and I enjoying using it for this purpose. For more info visit p4dragon.com . This modem has both Ethernet and Bluetooth connectivity.
DRM listening in the USA:
To keep up on the DRM happenings worldwide join the DRM-NA yahoo group. Despite the loss of many SWL stations, DRM stations can still be heard here in the USA. Check the DRM schedule for times and frequencies. Radio New Zealand (RNZI) continues to pound big signals into the Midwest US. DRM can provide a near high fidelity FM experience on shortwave! If you have never experienced this, it may be hard for you to believe a "Shortwave station?" can sound so good! It can... It sure would be a good replacement for "HD" Radio in the US's AM band! "Dream" software is open source and easy to set up especially with SDR radios.
DRM News:
All India Radio has installed new DRM transmitters (100 to 300KW) throughout the country. KWTR in Guam continues to have successful DRM transmissions with good sigs into Japan. Despite the downturn in SW radio, DRM may still have a chance in several countries through out the world. To keep up to date on DRM, check out check out K6FIB blog found here.
Radios are now being made. India will have full DRM coverage throughout their country.
Recent videos were put up on youtube (not sure how long it will stay there) comparing the quality of audio with AM. Keep in mind that the DRM can provide higher quality audio but at the lower bit rate (for robustness) in the RNZI transmission, it is still good.
Check out the videos here: www.youtube.com/watch?v=ttJ1aCDTAVI compare with analog here: www.youtube.com/watch?v=IL7XCbs3QO8
Radio HCJB's DRM Pappradio: Take a look at an inexpensive radio from HCJB - Germany. This is a sound card based PC radio which may be used with dream software providing both AM and DRM reception. Follow the link to their web site here.
WinRADiO in co-operation with VT Merlin Communications is now offering DRM decoder software in three different versions. For more info visit WinRADiO's site here.
SoDiRa DRM software: Recently, I have been using relatively new DRM software called "SoDiRa" developed in Germany. It works with a number of receivers including the Softrock and Flex Radios. Free Software and documentation may be found here.
One week of DRM listening provides good results: In early Nov 2010, I spent 7 days listening for DRM stations world wide. Using a Flex 3000 ham transceiver and a Force 12 multi-band Yagi, I found there is a number of stations with good signals for receivers in the USA . Signals SNR ranged from 15 to 33dB providing good decoding. Who had the best signal? TDP Radio was the winner. RCI was a close second. Both in the low 30s dB SNR. RNZI has good "talk radio" shows and interesting stories. Disco Palace and REE Noblejas (Costa Rica) both have great music. TDP Radio's dance music will thump your bass speakers quite well. All we need now is another Solar Cycle 19!
DRM audio (sound bite)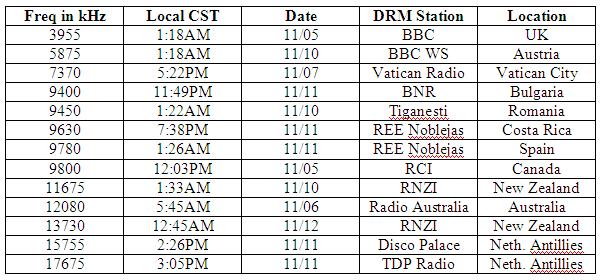 -----------
FreeDV Digital Voice using open source CODEC2 and FDM modem on 14.236
Sound bite of data signal >>>>Sound bite of decoded signal
Visit www.freedv.org
QSO Finder/Freq list/Chat line found here.
FreeDV CODEC2 and Modem development: This very low bit rate Speech Codec and a robust FDM modem are continuing to be improved by David Rowe, VK5DGR and the open source community. David's work is well documented in his blog at rowetel.com. Recent work on robustness may be found here.
ARRL Considerate Operator's Frequency Guide: Digital Voice has been recognized for its popularity and is now shown in this guide. Also, Digital-SSTV frequencies were added to the list. Thanks to QST editor, Steve Ford, WB8IMY for his help with these additions to the guide. The list is published once a year in QST and on the ARRL web site here.
FreeDV v1.1 now with Voice Keyer and 32/64 bit Windows Installer: FreeDV now with the new 700B mode is showing good robustness in the presence of weak signals and multipath.
RIGBlaster Advantage from West Mountain Radio: Recently, I set up a second HF station using the ICOM 706Mk2G and the USB RIGblaster Advantage specifically to see how it performs with FreeDV. In one word "great..." Rig control (PTT) may use either serial com port (via the USB port connected to the PC) or VOX. Both perform well and no latency issues noted using VOX. Look for more on the setup and audio performance in the forthcoming spring 2014 issue of the West Mountain Radio newsletter.
FreeDV booth at the 2013 Hamvention: Bruce, K6BP put together a volunteer team that presented FreeDV, CODEC2 and HT of the Future in a large booth in the main arena. The volunteers were quite busy answering questions and demonstrating FreeDV. Two HF stations were set up within the booth and a remote HF station (N4DV's in Florida) was making contacts across the US. The booth and volunteers may be seen here.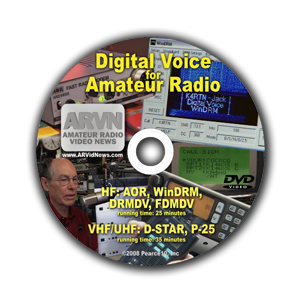 For more on Digital voice, visit Amateur Radio Video News here and look for this video and ARRL/TAPR 2008 DCC Conference DVD #5.
Legacy HB9TLK's WinDRM's DV and Image/Data Transfer: (sound bite)*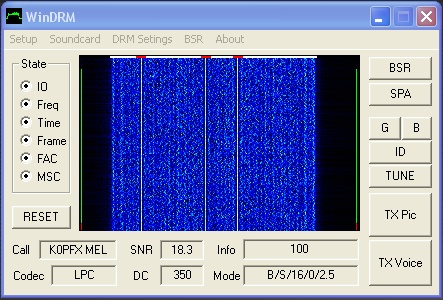 Latest release for WinDRM is dated 23-July-2008. For compatibility with EasyPal's image transfer using Reed-Solomon encoding/decoding, refer to Dave, KB4YZ's excellent doc on downloading and setting up the encoder/decoder for WinDRM go here. Digital Radio Mondiale's WinDRM docs Release 1.3, Quick Setup Guide and software may be downloaded from the www.n1su.com website. This is an "enhanced" sound bite showing the capability of WinDRM. Recorded in a QSO between St Louis and NY with special EQ techniques.
Note: This mode has been superseded for HF voice by FreeDV however, it is still available and has enhanced capabilities for Data transfers that may not be found in other HF modes.
D-Star:
The K0MDG (Missouri Digital Group) repeater is operational on all freqs and linked to the Gateway server. D-Star now has hundreds of Gateways world wide! DStar TV is one of the latest applications utilizing the low speed data capability of the radios to send digital SSTV pictures. Take a look here for more on D Star. You may find me on the DStarusers.org website. I monitor 1.2GHz (A) using the ID-1 and the 2M/70cm repeater outputs.
D-Star on HF:
D-Star users are experimenting with the DV mode on HF. John, K7VE has developed a D-Star users QSO Finder and it may be found here. For more D-Star info, check out their newsletter found here.
Analog ATV:
The MobiComm Communications "ATV LCD Kit" is now controlling their little DFM900 FM 900mHz transmitter. This TX is now mated up with the Bensat DR903mx satellite receiver. I am using a 1.2gHz FM TX with this Bensat receiver and have found it makes a good combination. Once you try FM ATV, you'll never go back to AM (well, at least for local contacts!). Using DEMI (Downeast Microwave) amplifiers with both transmitters and the loop yagis. FM provides a much improved picture over AM. Geeks.com has a very low cost "pan" unit with wireless remote control. I mounted a Panasonic color camera on it and use it to pan (scan) my hamshack so my ATV viewers can watch me roam around in the shack. It works quite well although some say it scans a bit too fast. Find the $25 "Cam Scanner-WL" here. You may find other uses for it outside the ham shack too. If you do order something from the Geeks, don't forget the little HE-280B USB Audio adapter (sound card the size of your thumb). At less than 6 bucks, it is hard to beat for both price and functionality as a second sound card with FreeDV. I received a couple new cameras from ATV Research and really satisfied with their performance. I recommend ATV Research (company owned by a ham!) because they are very helpful with selecting the right camera for your application.
Digital ATV Repeater:
A digital repeater is currently in the planning stages for the St Louis, Missouri area. Due to the availability of new equipment for DVB-T technology from HiDes and others, a change in hardware for the repeater will be made. An excellent site has been secured which should provide good coverage over the metro St Louis area.
3cm 10GHz Portable operation:
A 10gHz portable microwave station was completed utilizing a FT-817D for the "I.F." and a DEMI transverter running about 2.5w. A club was formed in 2009 in the St Louis area called "SLAMS" and several of us are exploring the world above 1GHz. It is pretty amazing what can be done on this band... its more than just "LOS" (line of sight). One member, WB9PNU worked 160+ miles using his SLAMS 10Ghz portable on a camera tri-pod from his driveway.
Microwave Update Conference(MUD) 2013 Proceedings:
Microwave Update conference is an annual event dedicated to microwave equipment, design, construction and operation. It was held this year at Morehead State University, in Morehead Kentucky on Oct 18-19, 2013. Visit their web site here. Documenting the work on a 10GHz portable following the "SLAMS Standard" design was published in the 2013 Microwave Update (MUD) proceedings. SLAMS is the St Louis Amateur Microwave Society and their activities may be seen here. The paper submitted by K0PFX provides the average builder detailed information on parts procurement and construction of a 2.5w portable 10GHz microwave station.
Remote Operation:
I packaged Glentek's Radio to Ethernet controller for my Icom 706mk2. This is an interesting and easy way to control a radio without a PC. Take a look at Glen's site here. Here is picture of mine inside front and rear.
On the Bench: I have finally completed my second test stand. I have the Marconi 2965A that spent 4 months in the UK being repaired and calibrated! Marconi made some very nice gear (they are now part of Aeroflex) but repairs can be take a long time and may become very costly.
Zigbee: At the 2011 ARRL/TAPR DCC in Chicago, I picked up a neat product from John, W2FS he calls the "VSC-X" Virtual Serial Cable that will let you program your radio or in my case, a D-710 "remotely" without removing it from the car to connect to my PC. Using the XBeePro Zigbees, I can wireless "extend" my RS232 cable and program my radio in the comfort of my ham shack. Other radios are compatible as well like the FT817, 857, 897 etc. Software is available to test the "range" of the Zigbees More info may be found at John's web site found here. If you need to extend a com port, this may be an option. A yahoo support group "VSC-X" is available.
Wireless watch? What? Yes, thanks to Jim, N0OBG, I now am experimenting with a Texas Instruments EZ430 Chronos A Wireless Watch Development Tool that controls my PowerPoint presentations, check my heart, run my PC's mouse and many more applications.
Software Defined Radio:
Flex 6700 Having started with the "3-Board Set" as described in QEX, I continue to be excited about all the innovation that Flex has brought into ham radios through their SDR designs. The 6700 is no exception with its excellent sensitive and very selective receiver low transmit IMD products. Full QSK works well, no clipping of the first element and no jitter even at 60+wpm. SmartSDR software release (v1.5x) for the 6300/6500/6700 includes digital voice, FreeDV....just click the DV button and push the mic PTT.
"Analog" Operating Position:
Acom 2000A HF Linear, ICOM IC-8500 Receiver w/TV-7100R, ICOM IC-910H Multi-Band VHF/UHF, Kenwood TM-5411.2 GHz FM, ICOM 706MkII, Alinco DR-235 220MHz FM, DR-M06 6M FM, Kenwood TH-F6 HT, ICOM R3 Wideband RX, ICOM ID-1, 91AD, 2820, PC Electronics TC70-20Sa ATV, Teletec DXP-U150 150w SSTV amp, Bensat DR-903MX 900-1200 ATV FM Receiver, PC Electronics 1300MT 1.2 GHz FM ATV, PC TX133CM 900 MHz ATV, and SSB Electronics pre-amps on tower and DEMI Amplifiers.
Other interests:
SW Listener analog and digital. For digital, I use DRM's dream software (v1.17) and Coding Technologies (Now Dolby Labs) Digital World Traveller. The Flex 5000 with Dream software has been found to be the better DRM receiver. QRP with Flex 1500, Mosley CM-1 receiver and Hygain Hytower HT-18, 51 foot vertical. The CM-1 was originally made for one of Carl Mosley's salesman who "took ownership" right off the production line. The radio was assembled about 3 miles airline from my QTH when Carl had his plant on Lindbergh Blvd just south and west of St Louis airport (Lambert Field). Complete with speaker and 6 meter Ameco transverter, it is my only boat anchor left in the shack. This radio recently won "3rd" place at the 2013 ARRL Midwest Convention "boat anchor" restoration contest. Remarkably, the designer for this radio is still with us and living in the St Louis area. I plan to visit with him one day and find out more about his work on this remarkable receiver with all the same tubes!
Surface mount (SMD) assembly and repair. Test and measurement equipment calibration. More on these activities at www.whittenconsulting.com Music background in piano and organ (I have an old Thomas Theatre organ with an even older Leslie once used on the Lawrence Welk Show).
Tower and Antennas: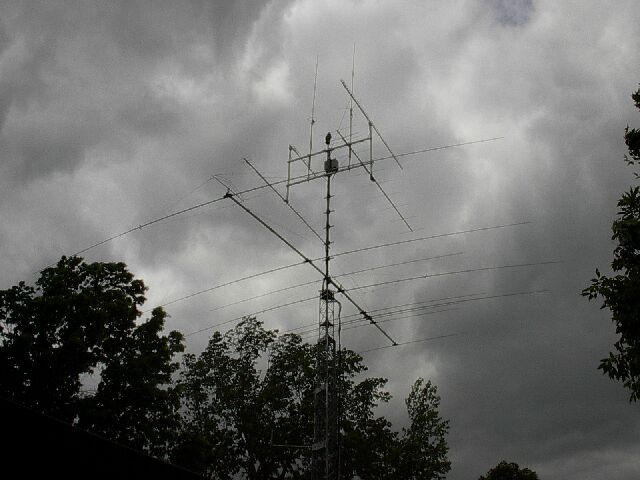 72 ft Heavy-Duty US Tower, Force 12 C4XL & K1FO Yagis 144/430/900/1296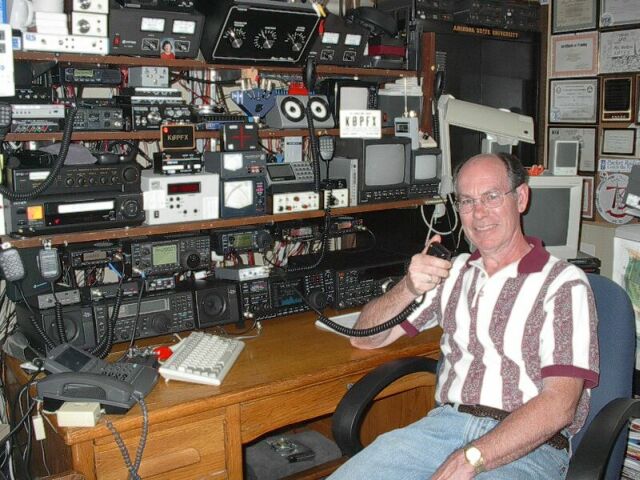 "As seen in..." QST Dec 2004 thru May 2005 QST.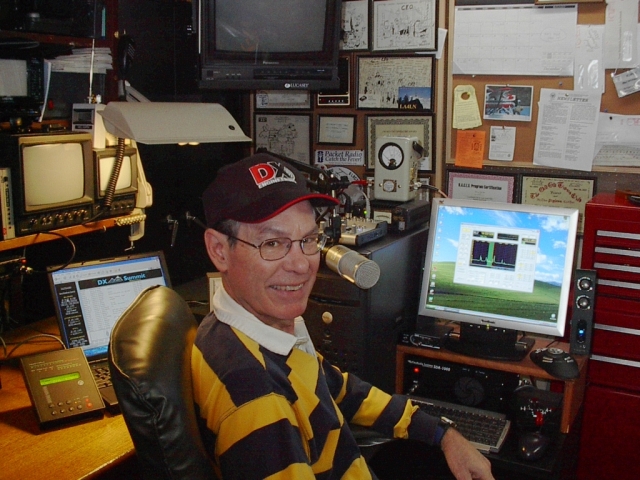 FlexRadio SDR-1000 + ACOM2000A + AOR ARD9000 + PR40 = Software Defined Fun...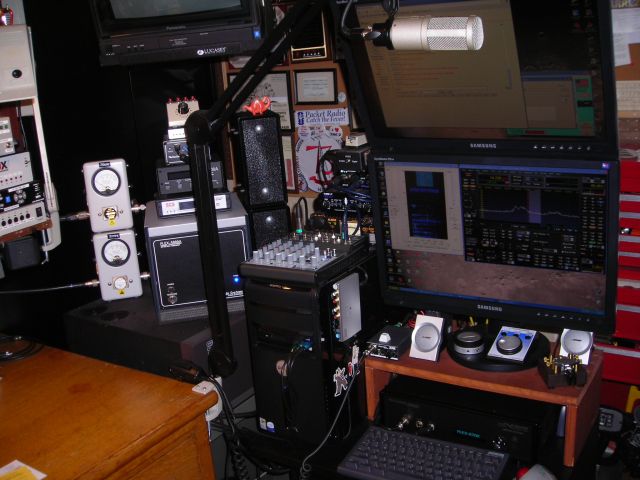 FLEX 1500/5000/6700, SCS Tracker/DSP TNC, Dragon P4/DR-7800, LP-100A - Nov 2013
Copyright © 2009, 2010, 2011, 2012, 2013, 2014, 2015, 2016, 2017, 2018 Mel Whitten